We Deliver World Class Warehousing and Logistics Services for Your Supply Chain
World Distribution Services is a leading provider of dedicated and shared warehousing space, with a combined approximately 1 million square feet of modern warehouse space across the United States. Whether you need an integrated supply chain solution or customized service, WDS is prepared to serve you. WDS offers comprehensive warehousing and distribution services throughout our network, which is connected with our Synapse warehouse management system to maximize efficiency, productivity, and speed.
Our focus on technology, systems, and process automation guarantees our ability to provide management and reporting throughout the supply chain, with the accountability and visibility you need to streamline your logistics processes. Our integrated systems give you complete control of your inventory, the flexibility to handle your changing distribution needs, and the peace of mind of knowing your cargo is in good hands.
The WDS team is market-knowledgeable and dedicated to providing Best in Class service. We are unwavering in our desire to impress our customers and provide them with the solutions they need to be successful. Our people are by far the most important link in our customers' supply chain. Our team of talented employees, combined with our full-service product capabilities and exemplary reputation, makes World Distribution Services your complete logistics resource.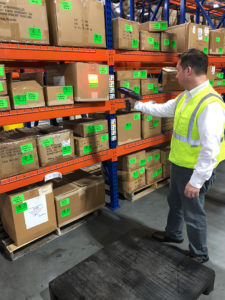 Our expansive range of value-added logistics solutions include, but is not limited to, the following warehousing services:
Container Unloading / Receiving
Sorting / Slotting
Labeling
Tagging / Barcoding
Packaging / Boxing
Palletizing
Kitting / Sub-assembly
Reworking / Repackaging
Quality Control & Inspections
Fulfillment
Pick, Pack & Ship
Vendor Routing Compliance
Pool Distribution
Transloading
You Can Rely on Our Proactive Warehousing and Distribution Customer Service
In addition to our warehousing services, you can also count on our dedicated team of professionals who are well equipped to handle a variety of special projects as requested. One of our top priorities includes offering customized solutions and services to the unique needs of each client.
Additionally, our expert management and operational teams can help develop the perfect supply chain solution for your business. We offer dedicated customer care and a complete portfolio of services to provide our customers with both top- and bottom-line value.
If you're interested in learning more about who we are as a company and how we can work with you to improve your warehousing and distribution process, you can start by contacting us today.
Our Warehousing and Commercial Storage Services Are Available Across the Country
Where are we located? We're glad you asked! World Distribution Services is committed to serving our customers in all parts of the United States. From New Jersey to Los Angeles, our team has many facilities within the U.S. for you to choose from.
The current locations in which we perform our warehouse logistics include the following:
Chesapeake – If you're looking for warehousing and distribution in Virginia, you can utilize our Chesapeake location that's monitored with 24-hour video surveillance.
Cincinnati – Our southern Ohio facility is centrally located near the local logistics hubs, as well as many central highway routes. Over 35 owner-operators are also dispatched locally here.
Cleveland – In addition to our corporate headquarters, Cleveland is also home to our 110,000-square foot warehouse and storage facility conveniently located only 2 miles from the CSX ramp.
Columbus – Columbus is home to our 250,000-square foot warehouse located within 15 miles of CSX and NS rail ramps, and centrally located to major highway routes. We also have local, regional, and national delivery capabilities with over 50 owner operators dispatched locally.
Newark – Our New Jersey location for warehouse services provides customers with the capabilities for cross docking and local deliveries along with many value added services such as sub-assembly, wrapping and much more.
Norfolk – Reliable logistics solutions can be provided for you within our second, and largest, Virginia location. No matter what your warehousing needs are, we can offer our expertise and assistance.
Savannah – With high accuracy and precision, our team will provide you with warehousing and distribution servicing the southeast from our convenient Savannah location.
So no matter what region of the United States your company is located in or needs warehousing for, World Distribution Services can be there as a helping hand to perform services such as sub-assembly, wrapping and more.
Learn Even More About Our Warehousing Logistics By Contacting Us Today!
World Distribution Services can provide you with commercial storage and warehousing solutions that fit your needs. Our Warehouse Network is filled with high-quality facilities that are able to offer diverse services as well as store a wide range of materials.
For more information about our network, our other locations, and each of our services, simply contact us today and our team will get in touch with you shortly!