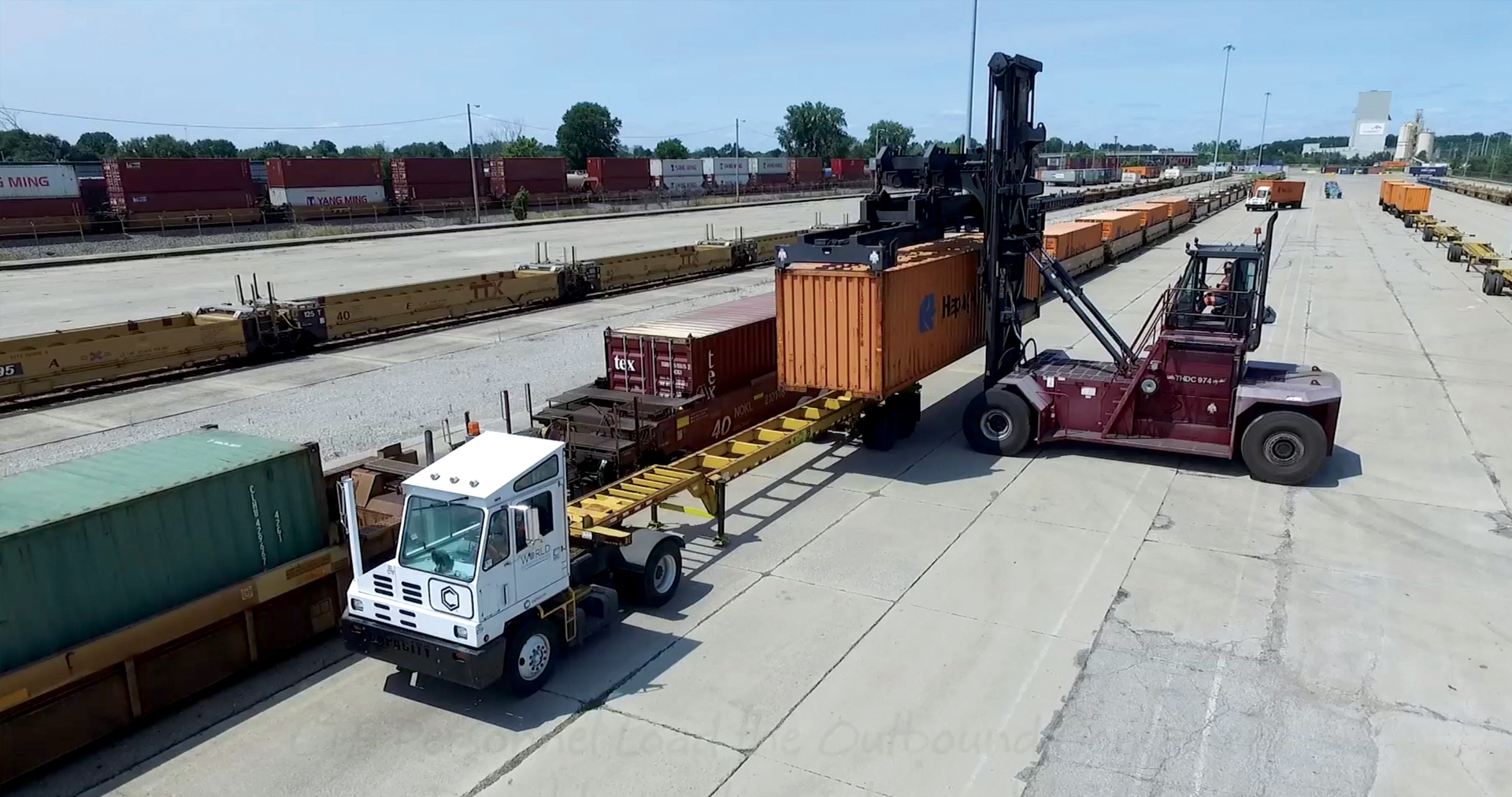 Bulk Transloading
10 Things to Know About Our Columbus Container Transload Facility
10 Things to Know About Our Unique Container Transload Facility in Columbus, OH
How we handle and transport over-sized freight, project cargo, bulk grain, and other commodities
Not all freight is created equal. When choosing a logistics provider to handle your project cargo and commodity freight, it's important to pick one that has the right team, tools, and experience for the job.
Our Columbus Transload Facility has specialized capabilities for handling all types of unique freight. From bulk grain to bulky goods, steel bars to tractors and cars - we're ready to help you move it. For nearly 60 years, the World Distribution Services team has perfected the art and strategy of handling commodity freight securely and affordably.
Here are 10 things you should know about our transloading facility in Columbus
1. The CTF is an Intermodal Hub Connecting USEC, USWC, and Canada. 
Our world-class facility acts as a hub for intermodal services – connecting Columbus to the Port of Norfolk and other USEC, USWC and Canadian Ports through a private, on-site intermodal rail operation. This means we can provide direct rail service via Norfolk Southern (NS) to Norfolk's NIT and APMT terminals with a 48-hour transit time to on-dock in Norfolk.
"The main benefit is that we streamline the process. Now agricultural goods, steel and other Midwestern commodities can be easily moved between points in the United States and points around the world in one simplified step. The location is extremely convenient for customers – particularly in the Midwest," says Jackie Csiszar, Vice President, CTF Operations.
2. We Have Secure Indoor and Outdoor Storage Space Available.
Supply chains may need to pivot during crises like the COVID-19 pandemic. Outdoor storage for containers and trailers of furloughed cargo can be hard to find in these times, but our CTF has you covered. Our facilities are fenced, secure, and monitored with 24-hour video surveillance. In addition to our outdoor storage acreage, we also have an indoor warehouse facility in Columbus where we can handle and store all types of freight, even overweight, over-dimensional, and out-of-gauge (OOG) cargo.
3. The CTF's Abilities Extend to Agricultural Goods.
Our unique facility combines transloading services for your agricultural loads with conventional rail and rail intermodal services. The CTF handles bulk grain of all types - Distiller's dried grains with solubles (DDGS), soybeans, soybean meal, wheat, and corn. We have full transloading capabilities for both bulk hopper cars and rail cars with a state-of-the-art, high speed covered conveyor system.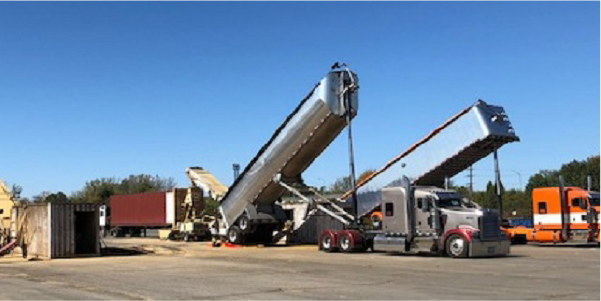 4. With 7,000 feet of Track Space, the Facility is Perfect for Rail Car Transloading.
We're equipped to handle the loading and unloading of all rail car commodities, including vehicles, ingots, and special equipment on our 7,000 feet of track space.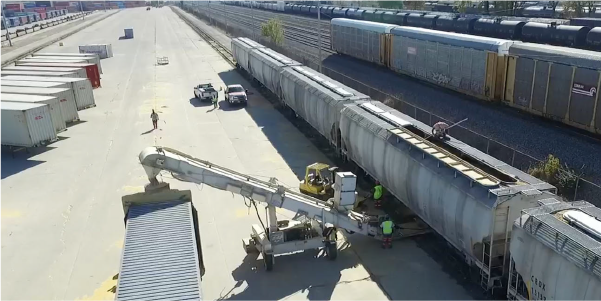 5. Our Equipment is Specialized for Steel of All Sizes...
Steel pipe, coils and bars of all sizes and weights - we have the capability to load for export and unload imports.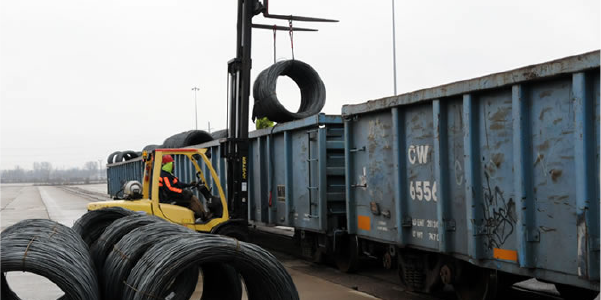 6. ...And Lumber, Too.
We can also handle and store lumber of all lengths and sizes.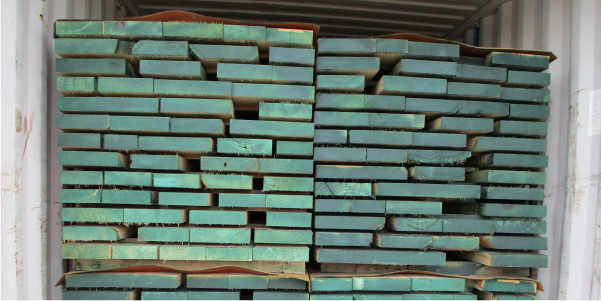 7. Our Forklifts Can Lift Up to 52,000 lbs, That's More Than a Greyhound Bus!
We aim to provide holistic solutions for your supply chain needs. Our 52,000 lb. and 30,000 lb. capacity forklifts mean few jobs are too big for us to handle. For the record, a Greyhound bus at GVWR with passengers and luggage weighs 48,000 lbs, or two tons.
Additionally, our Taylor 974 loaded container lift for rail transloading has a 90,000 lb. capacity and can be modified for specialized and more complex jobs, including unloading open top containers, conveyor systems, and more.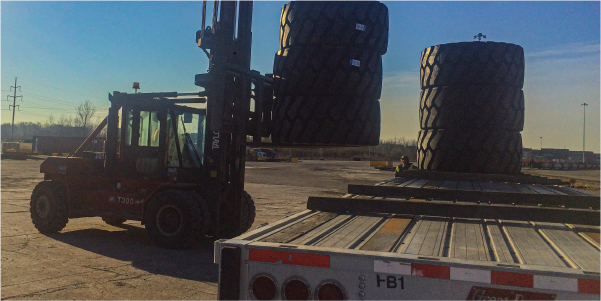 8. Looking for Local Heavy Haulage? We're at Your Service. 
Our facility provides maximum weight loading opportunities up to 58,000 lbs. per 40-ft. container. When your freight moves directly from CTF via rail, no overweight permit is needed, expediting the entire process and saving on drayage costs. We also offer local Columbus intermodal container drayage service for heavy and OOG containers. We can handle flatbeds and other heavy haul needs as well - ask us for a quote!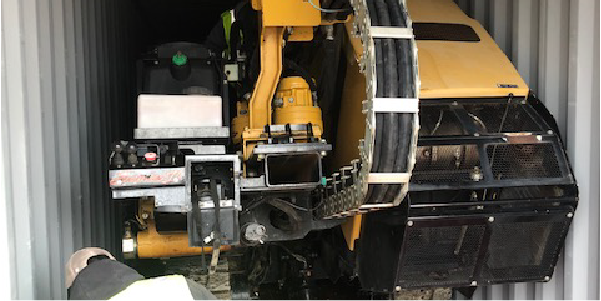 9. We Also Source, Sell, and Rent Shipping Containers.
Located adjacent to one of Central Ohio's largest container depots, we can also assist in sourcing additional containers for your business operations. We have access to all major ocean carriers' equipment for supporting your transportation needs, as well as new and used steel storage containers for purchase and rental.
10. Our Door-to-Door Services Are Designed to Save You Money.
WDS is your full-service resource for all things logistics. More than just a transloader, we can provide door-to-door quotes for all your transport needs. We design our quotes to be transparent and operate efficiently to save you money.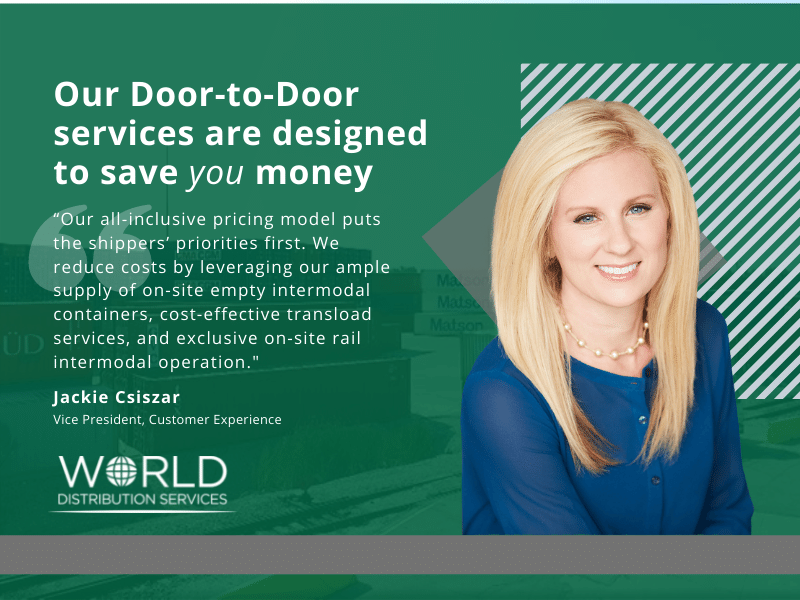 "Our all-inclusive pricing model puts the shippers' priorities first. We reduce costs by leveraging our ample supply of on-site empty intermodal containers with our cost-effective transload services and our exclusive on-site rail intermodal operation that virtually eliminates all container drayage cost," Csiszar said.
"This transload service - coupled with competitive rail rates from Columbus to on-dock Norfolk rail operations for export moves and our close partnership with the Port of Norfolk – allows us to provide a world-class experience that is second to none," explains Csiszar.
"All of these cost savings created by our integrated system go back to the customer's bottom line. We take pride in finding new solutions in response to internal and external challenges – CTF provides a solution to streamline the process and ensure our customers' ROI is optimized."
Need help transporting your commodity freight or project cargo? Contact us today
And there you have it - 10 things to know about our CTF! If you're in the market for a new logistics provider to haul your commodity freight, or you have special project and you're not sure where to begin, we're here to help.
From agricultural goods to steel of all sizes and weights, World Distribution Services has skills and capacity to load and unload with ease and keep your business running.
If you'd like to get a quote or have any questions, contact us Jackie Csiszar at csiszarj@worldshipping.com or call 440-895-8296.
Our facility is located at 1855 Watkins Road, Columbus, OH 43207.
Local Point of Contact:
Josh Walker, General Manager
Josh.Walker@worldds.net
614-409-0180