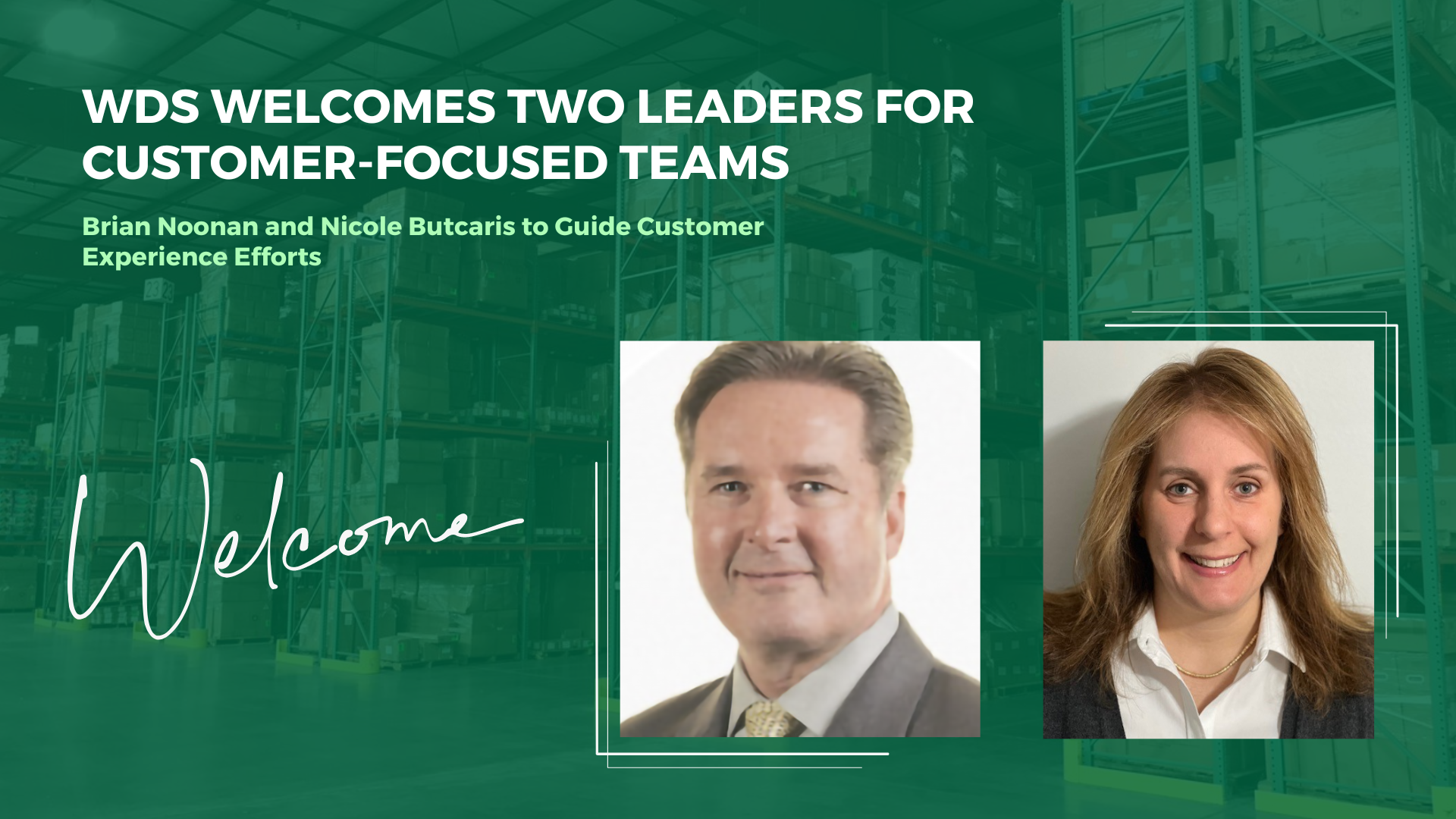 Press Releases
WDS Builds Customer-Focused Leadership Teams with Two New Hires
Brian Noonan and Nicole Butcaris to Guide Customer Experience Efforts
Cleveland, OH – In a strategic move to elevate the overall customer experience, World Distribution Services (WDS), a premier provider of innovative warehouse logistics solutions, welcomes two seasoned professionals to its leadership team: Brian Noonan, Senior Vice President of Customer Solutions and Nicole Butcaris, Director of Customer Experience. Their combined expertise, spanning 35 years in warehouse and distribution, underscores WDS's commitment to assembling the best possible team to work closely with customers across its eight locations.
Duncan Wright, President, WDS said: "Bringing Brian and Nicole on board highlights our dedication to delivering tailored, customer-centric solutions. We are confident that their expertise will solidify our 'customer-first' approach and ensure we continue to exceed expectations."
Brian Noonan's extensive logistics experience began at UPS as the Division Manager for Operations. Before coming to WDS, he spent nearly 20 years with Expeditors International, taking on various leadership roles and honing his skills in operational planning, process improvement, safety, and security. As Senior Vice President of Customer Solutions, his responsibilities include enhancing the customer experience across the entire network through customer journeys, leadership training and development.
"Customer experience has always been of the highest importance to me," said Noonan. "The collaboration and communication between our dedicated teams and our customers is the secret sauce for our shared success. We build on that success through engagement – whether it's a retention visit with an existing customer or onboarding a new customer. I look forward to strengthening the partnership between WDS and our customers."
As the newly appointed Director of Customer Experience, Nicole Butcaris is the critical bridge between WDS and customers. She joined WDS after a successful tenure at Ashcroft, Inc, a manufacturer of pressure and temperature instrumentation. Her experience there focused on customer service and support as well as employee relations. Prior to her time at Ashcroft, she spent over a decade with Johnson Electric, climbing the leadership ladder and gaining valuable experience in customer service and experience.
Butcaris said, "Our objectives in refining the customer experience revolve around identifying our clients' pain points and delivering solutions that surpass their expectations. We aim to synchronize people, processes, and technology to create a world-class customer experience that sets us apart from other providers."
About World Distribution Services:
World Distribution Services is a leading provider of creative warehouse logistics solutions. Their areas of expertise include cross-docking, transloading, and retail fulfillment, and local and nationwide transportation services. With a network of strategically situated warehouses across the country, experienced employees, and a wide range of capabilities, World Distribution Services is the source for complete warehouse logistics.