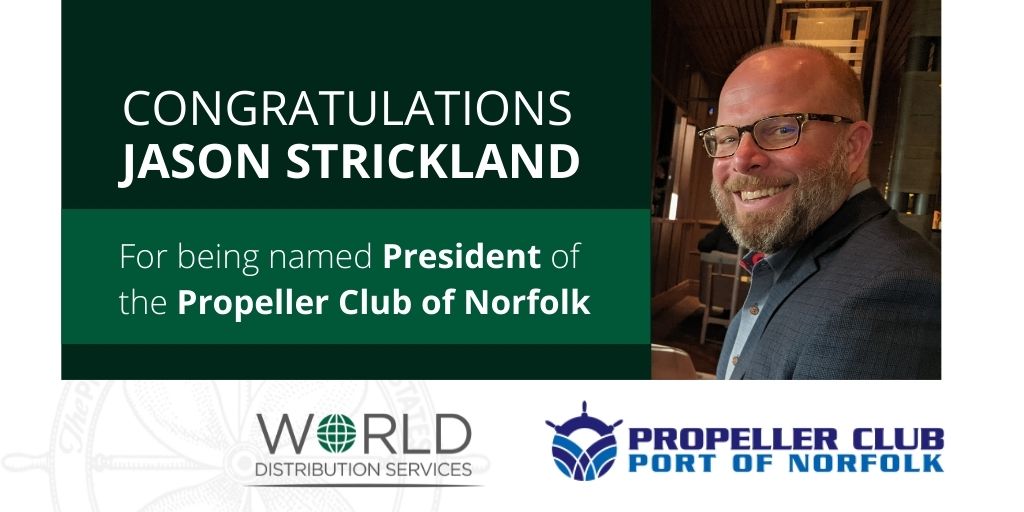 Articles & Accolades
Jason Strickland of WDS Named President of the Propeller Club of Norfolk
WDS's Jason Strickland takes the helm of the Propeller Club of Norfolk as President
On Thursday, Dec. 2, World Distribution Services' Director of Domestic Pricing, Jason Strickland, was sworn in as president of the Propeller Club of Norfolk.
Of the announcement, WDS Vice President, Dale Young, said, "We are so proud of Jason for this accomplishment. Mr. Strickland exemplifies our core values and his undertaking of this role demonstrates WDS's commitment to our local markets and maritime communities. It's great to see our leaders getting involved and working to promote and enhance our industry."
"It is an honor to be named the next president of the Propeller Club of Norfolk," said Jason Strickland. "My big initiative for the club in 2022 will be 'opening back up'. We historically have several networking events throughout the year, but unfortunately, due to COVID, we've been unable to hold a majority of these events for the last two years. My goal is to get the club back on track with having these events, COVID-permitting of course. I look forward to serving our maritime community in Virginia and bringing everyone back together."
The Propeller Club of Norfolk has over 300 members from all parts of the supply chain and holds its famous annual Oyster Roasts in April and October and south Hampton Road's National Maritime Day Celebration in May. It also champions fundraisers and scholarship awards for students in the maritime industry.
Learn more about the Propeller Club of Norfolk by visiting their website here: propellerclubnorfolk.org
Get involved! Students, find information on scholarships and other activities here: Propeller Club Community Information
Meet Jason Strickland
Mr. Strickland started working at WDS in 2013 as an Inside Sales Coordinator. Instrumental to the company's growth, Mr. Strickland, now Director of Domestic Pricing, has held a number of positions throughout the organization. His focus has always been on building strong relationships with vendors and customers, and finding strategic ways to make supply chains simpler, more efficient and effective.  A native to Norfolk, Strickland has MBA in Maritime, Port and Logistics Management from Old Dominion University.  Connect with Jason on LinkedIn >>
About World Distribution Services
World Distribution Services is a leading provider of creative warehouse logistics solutions. Our areas of expertise include cross-docking, transloading, e-commerce and retail fulfillment, and local and nationwide transportation services. With a network of strategically located warehouses across the country, experienced employees, and full-service product capabilities, World Distribution Services is your source for complete warehouse logistics. To learn more or to request a quote, or visit our website.