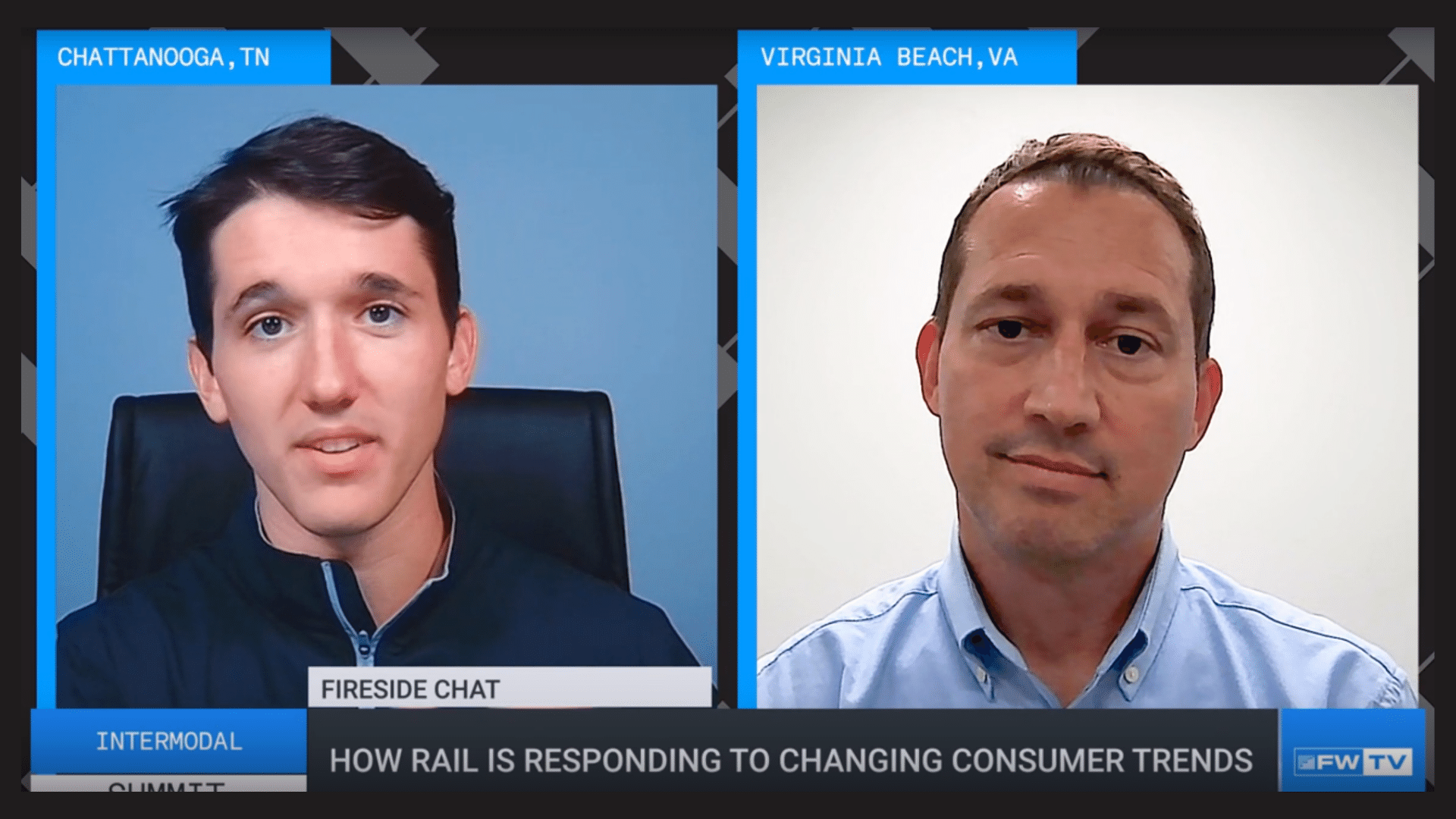 Articles & Accolades
Young on FreightWaves Intermodal Summit: How supply chain upheaval is impacting warehousing
Fireside chat between Dale Young, VP of WDS & Andrew Cox of FreightWaves during its Intermodal Summit
Dale Young, World Distribution Services (WDS) VP of Warehousing and Distribution and Andrew Cox, Senior Analyst at FreightWaves discuss how warehousing is responding to congestion and disruption in the supply chain. The two chatted about how many shippers are moving away from a "just-in-time" model towards a more "just-in-case" model, building up safety stock to protect from disruptions.  They also look at some of the backlogs the industry has had to contend with in the wake of the COVID-19 pandemic.
Andrew Cox (AC): Warehousing vacancy levels are at their lowest point in decades with just 5.4% capacity according to Cushman and Wakefield. This is contributing to the supply chain disruption at the ports and is even worse inland. It's a very difficult situation and here to discuss how to make the lives of shippers a little easier, we have Dale Young, VP of World Distribution Services.  
Dale Young (DY): As vice president of WDS, I am responsible for the entire network of 10 warehouses in 13 markets across the country, primarily in port markets with a heavy concentration on the east coast, although we work with partners on the west coast as well. 
AC:  BNSF, Union Pacific have both metered or even stopped movement from the west coast to the east coast to clear up some of the congestion. Talk to me about what the situation is like on the west coast with getting boxes off the ships, onto trains and into Chicago. 
DY: The congestion is at an all-time high and it really runs across the entire industry. You've got vessels parked waiting on berths. The typical wait time for berthing right now is seven to eight days. There is still this backlog of container freight in containers. We have customers who have been sitting on containers in the LA market for 30 or 60 days…some of them have been since May.  
There was a glut of freight that cannot move out of LA. The congestion inland is so bad that you cannot find your containers. There have been embargoes that are preventing the rails from moving inland so that some of the congestion can ease off. When a driver is dispatched to the rail ramp, they often cannot physically locate the container. There is so much freight and so many containers that you cannot find what you are looking for.   
AC: That's crazy. Even with GPS, they cannot be located because they are backed up for miles and miles right up to the port. The situation is really dire. Has there been any improvement in terms of working through the backlog? 
DY: So in 2020, we saw the supply chain slow down for a period due to the pandemic and then it restarted with a surge. We entered the surge just ahead of the traditional retail season in late summer/early fall. It took several months, but that volume has been worked through. Some late seasonal items never made it to store shelves, and again, we see customers sitting on seasonal freight this year. So, while the backlog issues are addressed, demand and volumes continue to grow as consumers continue to shop and order at all-time high levels, contributing to more backlog. 
Many issues remain. Freight is still delayed at origin, waiting for months to get on a vessel. Retail customers are seeing forecasts slide six to eight weeks, so what they expected in May isn't arriving until maybe July. And there doesn't seem to be a break in the action as people keep ordering, so we expect the backlog challenges to continue.  
AC: Let's look at the lack of availability of containers and the move to keep them from moving inland and how that's leading to more transloading at the ports. What are the challenges for you and the WDS to make that happen? 
DY:  The challenge goes back to the backlog freight of 2020, which leads to the imbalance of container availability. Domestically, we had so many containers and staffing became one of the biggest issues. We looked to bring in people during the off-season to handle the surge, which led right into the peak season.  Staffing became the major issue during the pandemic; we could not get people to come out of quarantine to unload containers. This prolonged the backlog as freight just sat there, contributing to the imbalance of containers, which still exists. 
In terms of what the customer wants, steamship lines want to get the equipment back to the agent and back into service—not going inland but back to servicing the Trans-Pacific trade. They may be increasing interior point intermodal (IPI) fees or eliminating the process of going inland altogether. We are seeing new charters that are only going to port markets.  
This is causing increased transloading and cross docking volume at the port markets. LA has this massive freight backlog, but we are also seeing diverted containers to the east coast as well, driving volumes up at Savannah and New York/New Jersey as well as the whole country. The need for cross docking has increased significantly and we don't see it ending soon.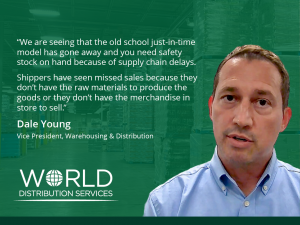 AC: So looking at alternative routes. Let's say you are a mid-sized shipper trying to avoid the LA congestion and considering going through Savannah or Houston, and these are markets you have not used often, if ever, over the last 10 years. The goal is to get it into the port, but once it's there, what is the next step to move that freight through the port?  
DY: We are dealing with customers every day who just want their freight domestic—just get it landed. But working with unfamiliar ports does cause some concern for the shipper. They have to quickly start to build relationships to help them establish a lane they never used before, and also make critical decisions very quickly.  
This is one of the ways it is beneficial to work with a company like WDS because we are a one-stop-shop. We do warehousing, distribution, as well as truckload brokerage. Shippers are seeing it is easier to work with us than multiple partners and we can walk them through the process to move their freight. Do you want to try to handle the warehousing side and the drayage side and the inland side, or just call one company, utilizing a swift process that gets you into the network? 
AC: Let's talk about surcharges and demurrage. Everyone is upset one way or the other. Can we talk about who is at fault and who is left holding the bag? What happens when the truck can't get in to see the ship and the ship can't get in to see the port? 
DY: No one is going to take credit for the fault. Unfortunately, with all the volume highs and drayage capacity at an all-time high, there is simply more freight than drayage providers.  
You have the delay of getting in. Then you have the delay of the congestion at the terminal itself. The queue to get into the terminal is usually 45 minutes to two hours, and now it is about six hours. So, in the scenario where we have sent a driver in to pick up the container for two days and have not been able to get in and get it out, what do you do?  
We have seen in the west coast that sections are just closed off, so we have no access to the container we are supposed to pick up. Who do you talk to about that? Of course, you try talking to the steamship lines and they try talking to the terminal operators. There's talk about forgiveness of demurrage charges or per diem charges. Everyone is hoping long-term relationships will help them address these challenges. 
The one left holding the bag unfortunately is the shipper. It is unfortunate, but companies like WDS cannot be responsible for not being able to get the container out. Who's to blame? It's not a matter of fault, it's a matter of too much volume, too much congestion and not enough trucking capacity. 
AC: Major retailers have discussed chartering their own ships. This may not be a solution for a smaller retailer, but for the larger retailers who do move in this direction, what are the limitations with regard to warehousing, the capacity, the throughput ability? 
DY: One of our sister companies is chartering vessels to help some of our smaller customers have a more level playing field, and we are also seeing NVOs get into the game. In terms of how to address warehousing challenges associated with these chartered vessels, I would say the first step is to have a strong communication plan with us. Warehouses need to be staffed and ready and drayage capacity needs to be arranged to ensure the spike in volume is handled as efficiently as possible.  
AC: What are the key things you've learned during COVID-19 that you are going to take with you into a post-COVID world? What are customers going to be requiring? 
DY: Right now, our customers are looking for cross docking and transloading at the port markets and this will be a customer requirement for some time. This service has driven quite a bit of our growth.  
We are seeing shippers looking to diversify their supply chain and becoming more flexible. If they typically use two ports of entry, they will likely look at three or four points of entry now, so they have options.  The relationships they are building now should be nurtured so that they become strong fixtures within their supply chains. 
Shippers are looking to have more levers to pull in terms of moving their freight around the country as needed. They have become more flexible with planning their own inventory levels, so they have more safety stock on hand to accommodate the needs of their customers. Last year, shippers lost out on sales because they did not have raw materials to produce goods or did not have the merchandise on hand to sell. Another shift is that shippers are looking to have multiple warehousing and distribution centers closer to population centers, again to help ensure the product is where it needs to be when it needs to be there. The just-in-time model has been replaced by the just-in-case model.  
AC: So there have been a lack of warehouse capacity as it relates to the congestion as well as the increase in ecommerce. What are you doing to address the lack of capacity? 
DY: To address the warehouse capacity challenge, we are building new warehouses in markets that make sense for our customers. We just introduced a 480,000-square-foot warehouse to service the New York/New Jersey market. In the last 18 months, we have added about a million square feet based simply on demand.  We have been able to build facilities that are staffed and operational with very tight timelines so we can accommodate the needs of our customers.  
AC: These have been some great real-world examples of how the industry can be more flexible. Shippers need to look at more ports of call and building more relationships. There needs to be more warehouse space as well as more inventory on hold.  
DY: Thanks for this opportunity.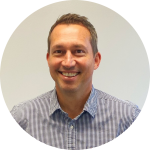 About Dale Young
Young oversees operations, sales, customer service, business development, and employee training and engagement for WDS, which operates 10 facilities with 1.5 million square feet of warehousing space. He has worked in warehousing, distribution and logistics for over 25 years. Young has served in management and supervisory roles at Evans Distribution Systems, Cost Plus World Market DC, Hudd Distribution Services and UPS.