Press Releases
World Distribution Services Parent Company Acquires Pacific Cascade
World Distribution Services Parent Company, World Group, Acquires Pacific Cascade
Transaction bolsters distribution capacity in Pacific Northwest, strengthens nationwide footprint
Cleveland, OH – December 7, 2022 – Today, World Distribution Services' (WDS) parent company World Group, announced the acquisition of Pacific Cascade, comprised of Pacific Cascade Distribution, LLC, and Pacific Cascade Trucking, LLC, both headquartered in Sumner, Washington.
Pacific Cascade, founded in 2005 by Jeff Roulst, is an asset-light provider of 3PL services including drayage, warehousing, transloading, fulfillment and more. They operate over 50 trucks and have garnered motor carrier of the year honors from customers in 2016, 2020 and most recently in 2021. Additionally, in 2015, they were the first drayage provider servicing the ports of Tacoma and Seattle to become fully compliant with updated clean air regulations. Their 267,000 sq ft distribution facility and headquarters are located a short 20-minute drive from the newly-opened WDS facility in Tacoma, Washington.
"There is a lot of excitement about welcoming Pacific Cascade and their team as part of our family," said Dale Young, Vice President of Warehousing & Distribution for WDS. "They are an industry leader in the Pacific Northwest when it comes to providing customers with reliable 3PL services and a top-notch customer experience. This move complements our existing distribution footprint in the area and allows for increased flexibility and capacity for customers, including more cross-docking, transloading, and other distribution options at a time when these services are in high demand."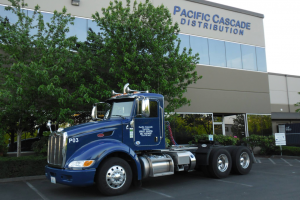 Pacific Cascade CEO Jeff Roulst offered the following comments: "This agreement really made sense for both organizations. World Group's operating companies have a robust presence east of the Rockies, and their recent significant investments in the Pacific Northwest, including the new WDS distribution facility and the Sun Chief express ocean service offered by UWL in collaboration with Swire Shipping, demonstrate a commitment to long-term growth in this region. Our leadership teams share a similar vision, and we are excited to see where this journey takes us together."
With the addition of the Pacific Cascade facility, customers looking to move goods quickly will now have access to nearly 600,000 sq ft of space in the market. Pacific Cascade is located 35 miles from the Port of Seattle, and just 12 miles from the Port of Tacoma. Both locations have ample truck parking and dozens of dock doors to facilitate efficient transloading and cross-docking to ensure freight is ready for domestic distribution.
"It's a privilege to have an organization like Pacific Cascade as part of our World Group family," said Fred Hunger, CEO, World Group. "Their culture and capabilities align with our existing offerings and will help build a true end-to-end supply chain solution for our customers. Jeff and his team have extensive knowledge of the Pacific Northwest and will bolster our existing presence in the market. Together, we'll grow our vision of creating a transportation corridor in the Pacific Northwest for customers looking for a legitimate alternative to LA/Long Beach."
About World Distribution Services
World Distribution Services is a leading provider of complete warehouse and distribution logistics. Their areas of expertise include cross-docking, transloading, e-commerce and retail fulfillment, and local and nationwide transportation services. With a national network of strategically situated distribution centers, experienced employees, and full-service product capabilities, World Distribution Services makes fulfillment and distribution scalable, flexible, and customized. Visit their website to learn more: www.worldds.net.
About World Group
World Group was founded over 60 years ago as a pioneer in vessel agency services on the Great Lakes. Today, they are home to a portfolio of globally trusted brands that deliver end-to-end supply chain solutions, powered by innovative technology for a new level of visibility and data analytics. With industry-leading products in ocean drayage and domestic trucking, freight forwarding/NVOCC, air freight, customs house brokerage, vessel husbandry, and warehousing and distribution, customers around the globe trust World Group brands to simplify supply chains and reliably move freight. Learn more at www.worldgrouplogistics.com.
Dive Deeper